TippToberfest Fight Night

This Friday night at the Clonmel Park Hotel there will be a boxing night featuring GAA, camogie and ladies football players. Admission is €25 on the night or €20 for tickets purchased in advance at Clonmel Park Hotel, Lar na Pairce or via GAA clubs.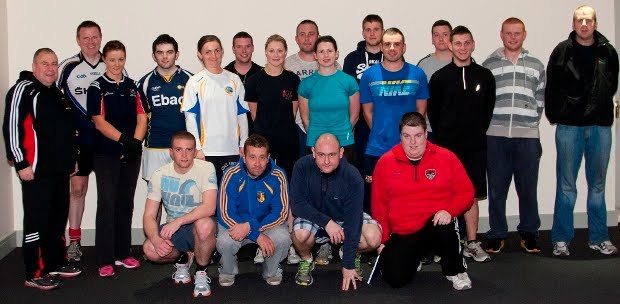 Boxers included in photo – 
Darren Boland, Gino Lonergan, Matthew Norris, Eoin Burke Clonmel Og.
James Sweetman, Martin Russell, James Waters, Carrick Swan.
Carmel Condon Brian Boru's Ladies football, Irene Codd Moyle Rovers Ladies Football, Siobhan O Neill Cappawhite Camogie, Tina O Brien Annacarty Eire Og Camogie
Conor-Davin Murphy Eddie Sweeney Kilsheelan
David Collins St Marys
Brian Tyrell Clonmel Commercials
Patrick Hackett, Joe Fitzgerald, Tommy Kiely Clonmel Boxing Club .
John Mackey and Martin Fennessy Officials Clonmel Boxing Club
A final reminder to all our supporters that the inaugural TIPPTOBERFEST takes place this coming weekend from Friday October 25 to 28.. 
The spectacular Arena at the Clonmel Park Hotel will be the venue for TIPPTOBERFEST which will provide valuable financial assistance towards training costs for all Tipperary Teams taking to the field in 2014. On Friday October 25, the Tipp Fight night takes place featuring Tipperary club GAA players from hurling, camogie and ladies football. Tickets purchased in advance cost €20 while those purchased on the night cost €25. 
On Saturday October 26 Nathan Carter will be in concert with special guests Louise Morrissey and Marty Daniels. Tickets cost €25. 
On Sunday October 27, there will be a Feast of Irish Folk featured the Furey Brothers and Davey Arthur and also Johnny McEvoy, Jimmy Crowley and Stokers Lodge and Denis Allen. Tickets cost €25. 
There are two events on Bank Holiday Monday, October 28. In the afternoon, there will be Monster Bingo with a guaranteed cash payout of a massive €15,000. Single books cost €20 with a double costing €25 and a free jackpot sheet in each book. 
On Monday evening, the Céilí Mór featuring the Johnny Reidy Ceili Band takes place. Tickets cost €10. Tickets for all the pre-bookable events can be purchased at Lar na Pairce Thurles (0504 22702) or at the Clonmel Park Hotel. Please book early to avoid disappointment or contact Lar na Pairce or the Hotel for more information. Tickets for the boxing are also available through GAA clubs. Corporate entertainment is also available at the event with table of 10 ringside seats available for €500. A 4 course meal is included. Individual tickets for the corporate function can be purchase at €50 each.