Tipperary GAA Scene 23rd May 2018
By PRO Joe Bracken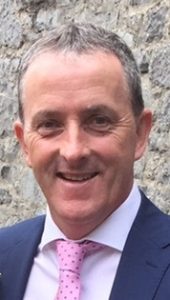 MUNSTER SENIOR HURLING CHAMPIONSHIP
The new look Munster Senior Hurling Championship got under way in the Gaelic Grounds on Sunday last and as weather conditions faded in the final minutes unfortunately so too did Tipperary's challenge as Limerick took round 1 honours on a score-line of 1-23 to 2-14. The Tipp goals came courtesy of Jason Forde (Silvermines) who ended up with 1-9 and Dan McCormack (Borris-Ileigh). While not the result we had hoped for the focus now will be on the 3 remaining games, starting with Cork next Sunday, where a win is required to put Tipp firmly back in the picture for the latter stages. Had this been last year's format the Munster Championship would have been over for Tipp, so it's still all to play for now, onwards and upwards.
Congratulations to the championship debutants last Sunday, Brian Hogan (Lorrha-Dorrha), Barry Heffernan (Nenagh Éire Óg), Willie Connors (Kiladangan) and Billy McCarthy (Thurles Sarsfields). While Alan Flynn (Kiladangan) made his starting debut having been introduced against Cork last season.
In his 22nd year, Brian Hogan is the youngest goalkeeper to play Championship for Tipperary since Brendan Cummins (20) started for Tipp v Waterford in 1995. Brian's father Ken was a selector alongside Fr. Tom Fogarty (Manager) and John Kennedy that year in a team captained by our Minor manager Tommy Dunne.
Semple Stadium is the place to be next Sunday, May 27th, as Tipperary and Cork meet in Round 2 where throw-will be at 2pm, as Cork sit on top of the table after their 2-23 to 1-21 win over Clare. This makes next Sunday's game all the more appealing and it is sure to ignite memories of ferocious battles in the minds of many. Fearless warriors ingrained as much in the mind as in the annals of the game will no doubt rise to the fore as these two traditional powerhouses go at it in the latest gripping instalment.
Of the 85 championship games between the sides 82 reached a conclusion, with Cork ahead by the minimum 38 wins to 37 and there were 7 draws.
Their initial meeting on May 27th 1888 was unfinished, with Tipperary leading by 2-1 to 0-0. A refixture was made but Tipperary conceded a walk over. The Munster and All Ireland championships were unfinished due to the American Invasion.
Tipperary were a point ahead, when the 1905 semi-final also finished before full time. A replay was fixed, but Tipperary conceded a walk over. The first game of 1926 final trio was also unfinished with Tipperary leading by five points. Those three games, plus the 82 which were finished give us the 85 on field meetings. Cork also received a walk over in 1901 (original fixture).
Tipperary however have an impressive run in the last 10 encounters winning 7 of those to Cork's 3, the results of which are as follows; 25/6/2006 Munster Final, Semple Stadium – Cork 2-14 Tipperary 1-14; 14/7/2007, All Ireland Qualifier, Semple Stadium – Tipperary 2-16 Cork 1-18; 8/6/2008, Munster S/F, Páirc Uí Chaoimh -Tipperary 1-19 Cork 1-13; 31/5/2009, Munster Q/F, Semple Stadium – Tipperary 1-19 Cork 0-19; 30/5/2010, Munster Q/F, Páirc Uí Chaoimh – Cork 3-15 Tipperary 0-14; 29/5/2011, Munster Q/F, Semple Stadium – Tipperary 3-22 Cork 0-23; 24/6/2012, Munster S/F, Páirc Uí Chaoimh – Tipperary 1-22 Cork 0-24; 17/8/2014, All Ireland S/F, Croke Park -Tipperary 2-18 Cork 1-11; 22/5/2016, Munster Q/F, Semple Stadium – Tipperary 0-22 Cork 0-13 and on 21/5/2017, Munster Q/F, Semple Stadium – Cork 2-27 Tipperary 1-26.
Best wishes to the team and management on Sunday in the Field of Legends. The referee will be John Keenan (Wicklow).
Tickets are on pre purchase price of €20 for stand tickets and €15 for terrace tickets. This price is available until midnight on the Saturday. The match day price will increase by €5, so stand tickets bought on match day will be €25 and terrace tickets will be €20. Juvenile tickets (U-16) will be €5 no matter when they are purchased. Students and OAP's will receive a concession of €5.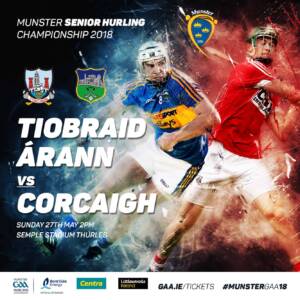 MUNSTER SENIOR FOOTBALL CHAMPIONSHIP

The Tipperary footballers got the weekend off to a solid start with a deserved 0-20 to 0-9 win over Waterford in their Munster Championship Quarter-Final in Semple Stadium last Saturday evening before an attendance of 1,658. Congratulations to John Meagher (Loughmore-Castleiney) on making his championship debut and also to his club mate Liam McGrath who made his first championship start.
Tipp will now play Cork in the Munster Championship Semi-Final this Saturday, May 26th, in Semple Stadium where throw in is again at 7pm. This will be the third meeting in a row between Tipp and Cork at semi-final stage with the stats reading one win apiece in the previous two encounters. Only a point separated the sides last year as Tipp narrowly failed to edge out Cork in Páirc Uí Rinn. Conor Sweeny (Ballyporeen) raised a green flag for Tipp in the 69th minute and unfortunately Cork as we know got the ball down the field quickly to cancel out Conor's goal as they snatched a win at the death.
Both sides last met in the first round of this year's Allianz league with Tipperary taking the honours 3-16 to 1-16 with Liam McGrath (Loughmore-Castleiney) scoring 2-5 in a Man of the Match performance, the other goal came courtesy of an inspiring finish by Michael Quinlivan (Clonmel Commercials).
Best wishes so to Tipp football team and management and we appeal to supporters to come out and get behind the team for the semi-final where the referee will be Anthony Nolan (Wicklow).
Tickets for this match are adult pre purchase: €15.00 up until midnight Friday and adult match day: €20.00, Juveniles/U16's: Free. Students/Seniors will receive a €5.00 concession on full price tickets with valid id prior to entry at the designated stile.

MUNSTER MINOR HURLING CHAMPIONSHIP
The Tipperary minor hurlers also get their first round under way in the Electric Ireland Munster Hurling Minor Championship on Sunday last and unfortunately after a fine display were caught near the end losing out 1-17 to 2-12 with Seán Hayes (Kiladangan) scoring both Tipperary goals.
It's back to the thick of the action for Tommy Dunne's team again next weekend as they open proceedings in Semple Stadium playing Cork in round 2, like their senior counterparts, and throw-in is at 12 noon.
We send best wishes to the panel and their management team ahead of Sunday's match. The referee will be Thomas Walsh (Waterford).
MUNSTER SENIOR CAMOGIE FINAL
We send best wishes to the Tipperary senior camogie team who will play Cork in the Munster Final in Páirc Uí Chaoimh on Saturday next May 26th, with throw-in at 1:30pm. All support would be greatly appreciated.
REFEREES
Well done to Kevin Jordan (Thurles Gaels) as he took charge of the Cork v Clare Electric Ireland Munster Hurling Minor fixture last Sunday. Best wishes to John McCormack (Knockavilla-Donaskeigh Kickhams) who will referee the Clare v Waterford minor match next Sunday.
CLUB FIXTURES
This week there is action in the Tipperary Water County Football Leagues and to keep up to date with all fixtures and results please check http://people.gaa.ie/club/tipperary/
CELTIC CHALLENGE
The South Tipperary Celtic Challenge team had a bye in last week's round 3 games. They recommence competitive activity on Wednesday 23rd May at 7.30pm in Golden against Cork City. Admission is free.
NEW TIPPERARY CLUB DRAW
The first draw for the new Tipperary GAA Club Draw season will be held this Friday, May 25th and it will be held in conjunction with Cashel King Cormacs club in Brosnan's Lounge, Cashel. First prize will be a Skoda Karoq or €25,000 and second prize is a Renault Megane or €15,000. Join online on the Tipperary GAA Website or on the following link https://tipperary.gaa.ie/shop/tipperary-2018-draw/
TIPPERARY SUPPORTERS CLUB GOLF CLASSIC
The Tipperary Supporters Club 33rd Annual Golf Classic was held at Tipperary Golf Club last Friday and proved to be an excellent event once again. The supporters club wish to thank all those who took part and/or provided sponsorship for this annual showpiece.
The winners were as follows;
1st Prize – VSO Publications – Jerry Morrisey, Francis Fitzgerald, Paddy Crowe and Sean Jackson
2nd Prize – Garrabridge – John Leahy, Declan Ryan, Noel Flanagan and Gerry Ryan
3rd Prize – Coolmore – John O'Lone, Robert Broderick, Christian Healy and Charlie Peate
4th Prize – Louis Fitzgerald – Liam Armshaw, Louis Fitzgerald, Mike Ryan and Liam Treacy
5th Prize – James Hanrahan – Andy Lacey, James Hanrahan, James Nolan and Willie Moore
6th Prize – Irish Tar and Bitumen – Rory Boland, Tony O'Meara, Keith Barr and Shay Boland
Nearest the Pin – Sadie Tierney
Longest Drive – Declan Keaty
GAA AWARD 1 YOUTH COURSE
After having discussions with clubs and coaches over the last few months Tipperary Coaching and Games have decided to restructure the Award 1 Youth course. The objective here is to focus on a more practical approach as to when the coaches are actively coaching with your club teams from under 14 – minor level, utilizing the good weather over the summer months.
The objective here is to form a group of coaches who wish to upskill and learn from our Tutors and indeed each other; the course will be run by offering one module a month over five months. With this process coaching and games staff will visit club teams for practical tutoring sessions in workshop format along with goal setting and reviewing the course content from your club team's experiences. Only coaches on the course will be offered this assistance.
The Course will cover content such as;
-Physical fitness for the youth player.
-Technical Hurling skill improvements.
-Technical Football skill improvements.
-Decision making both on and off the ball.
-Defending and attacking concepts.
-Statistical analysis and psychological focus of youth players.
This course will be a fully certified Award 1 Youth Course. Course costs will be €50 paid prior to the starting date to ensure your booking. These courses will be run on Saturday mornings to avoid club fixtures.
Please make contact via email regards registration to kevin.halley.gda.tipperary@gaa.ie Tipperary Coach Education Administrator.
POC FADA
Tipperary Poc Fada takes place on Saturday June 9th, in Bike Park Ireland, Knockshegowna in association with Bike Park Ireland and Fairymount Farm. Applications for the senior event can be made by email before Wednesday 6th to secretary.tipperary@gaa.ie or Dinny.maher.gda.tipperary@gaa.ie
The U16 Event is through Bord na nÓg competition only.
A specially commissioned County Final Medal will be presented to the winner of both Senior and U16 events on the day.
HEALTH & WELLBEING
The RNLI is one of the partner organisations working with the GAA through the Healthy Club Project. The RNLI would like to deliver safety talks to minor and senior GAA club teams so they can understand the risks of drowning and how simple action can save lives.
This campaign is primarily aimed at men, particularly those aged between 16 and 39 years who are more likely to take risks. However, the safety advice is relevant for anyone and the RNLI Ambassadors are willing to speak to members of all ages, both male and female.
The RNLI's team of volunteers are specially trained and have attended Croke Park to receive their training and have short presentations of approximately half an hour to deliver locally. The RNLI and the GAA have worked to make this programme relevant to young people who lead busy and active lives. Clubs are asked to consider this short presentation as it could save a life in your club. If your club would like a visit contact Susan at the RNLI Head Office Tel: 01 8900460 or email SusanCarthy@rnli.org.uk
TIPPERARY SUPPORTERS CLUB MEMBERSHIP 2018
Click here to join: http://www.tippsupportersclub.com/join/adult-members/
The Tipperary Supporters Club member's gift in 2018 is a specially produced Tipperary Supporters Club Cap, in the traditional Blue and Gold and featuring the Tipperary Supporters Club Official Logo.
Membership is €40 per person and there are several payment options. All proceeds from membership go directly towards the preparation and training of the Tipperary Senior Hurling Team.
FRIENDS OF TIPPERARY FOOTBALL
If you would like to be entered into the draw for some fantastic prizes the Friends of Tipperary Football are selling membership for 2018 and once again it is a very reasonable €20.
Membership enters each supporter into the following draws:
Two All-Ireland Final Football tickets 2018
Two All-Ireland Final Hurling tickets 2018
Two Tickets for each Tipperary Senior Football Championship matches 2018
Plus, all members will receive an exclusive car sticker.
If you would like to join online you can do so at http://www.friendsoftipperaryfootball.com/join/ or contact any Friends of Tipperary Football committee member.
TIPPERARY GAA SCENE
Information concerning all areas in the GAA will appear in this section in the future. If you wish to include any item of interest in future articles, please e-mail at pro.tipperary@gaa.ie on or before 3.00pm on Monday. Visit the Tipperary GAA web site at http://tipperary.gaa.ie to keep up to date with all the latest news in Tipperary GAA circles.