Tipperary GAA Scene – 14th November 2017
By PRO Joe Bracken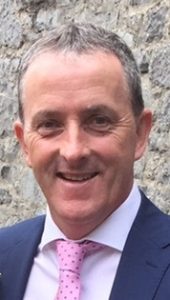 MUNSTER JUNIOR CLUB HURLING CHAMPIONSHIP
Congratulations to Ballybacon-Grange who defeated St. Catherine's (Cork) by 1-11 to 0-9 in the AIB Munster Junior Club Hurling Championship Semi-Final in Ardfinnan last Sunday. Gerry Cronin scored the all-important goal for Ballybacon with former senior star Brendan Cummins the leading scorer on the day with six pointed frees.
Ballybacon-Grange will now play Ardmore (Waterford) in the Munster Final on Sunday, December 3rd, in Mallow.
COUNTY JUNIOR HURLING CHAMPIONSHIP
In the Tipperary Water County Junior B Hurling semi-final Thurles Sarsfields needed extra time to see off Mullinahone 1-17 to 1-12. Sarsfields will now meet Newport in the final on Sunday week November 26th.
COUNTY HURLING LEAGUES
There are two finals down for decision in the Tipperary Water County Hurling Leagues this weekend with Ballybacon-Grange meeting Knockshegowna in Templetuohy on Saturday next November 18th at 1:30pm in the Division 5 Final, while on Sunday, November 19th, Roscrea and Toomevara meet again but this time in the Division 2 Final in Moneygall with throw-in here also at 1:30pm.
COUNTY JUNIOR FOOTBALL CHAMPIONSHIP
In the Tipperary Water County Junior (B) Football Championship Boherlahan-Dualla saw off the challenge of Clerihan 1-6 to 0-5 to set up a County Final against neighbours Cashel King Cormacs next Sunday, November 19th, in Clonoulty with a 12pm throw-in.
COUNTY MINOR FOOTBALL CHAMPIONSHIP
The Tipperary Water County Minor (B) Football Championship Semi-Final between Cappawhite Gaels and Kilruane MacDonaghs will take place in Borrisoleigh on Tuesday night next, November 21st with an 8pm start.
COUNTY FOOTBALL LEAGUE
Congratulations to Moyle Rovers on winning the Tipperary Water County Football League Division (1)
following their 1-7 to 0-2 win over Clonmel Commercials on Sunday last.
For a full round up on all results and fixtures, please check the Tipperary GAA website https://tipperary.gaa.ie/ or the fixtures/results section in your local newspaper.
AIG FENWAY CLASSIC
Best wishes to the Tipperary senior hurling party of 30 which travel to Boston this weekend to participate in the second staging of the AIG Fenway Classic where they will line up with Galway, Dublin and Clare. Once again TG4 will broadcast all the games and with over 20k tickets already sold there should be a tremendous atmosphere for the Super 11's games this weekend as the venue is expected to sell out.
Semi-Final one will be a rematch of the 2015 battle between Dublin and Galway while Semi-Final two is a Clash of Champions – Tipperary (2016 All-Ireland Senior Hurling Champions) meet Clare (2016 National Hurling League Champions). The winners will then play a final to decide the winners of the inaugural Players Champions Cup.
INTERNATIONAL RULES
Although Ireland lost the first International Rules test to Australia by 10 points on Sunday morning last 63 (2-13-12) to 53 (1-13-8), Conor Sweeney (Ballyporeen) made his debut, scoring one over equal to three points for Ireland and was one of only four Ireland players to score between the main uprights. Hopefully, next weekend we will see more of Conor in action as Ireland head to Perth for the second test in a bid to retain the Cormac McAnallen Cup. MUNSTER CLUB FINAL
Semple Stadium takes centre stage again this weekend as the Field of Legends hosts the AIB Munster GAA Hurling Senior Club Championship Final between Na Piarsaigh (Limerick) and Ballygunner (Waterford) with throw-in at 2pm.
INAUGURAL U19 INTER-DIVISIONAL FOOTBALL
The Tipperary U20 football management is hosting an Inaugural U19 Inter-Divisional Competition later this month where the competition will be held over two Sundays (November 26th and December 3rd) in order to allow them to select the best possible panel for the 2018 Munster U20 football campaign.
Players born in the years 1998, 1999, and 2000 are eligible for the 2018 campaign.
Any club officials or mentors that know players that may be interested or feel that a player has something to offer should please contact one of the following with player name(s) and contact number(s) – Kieran Maguire 087 939 2812 (South Division), Tommy Toomey 087 384 1023 (West Division), Mick O'Sullivan 087 611 1102 (Mid Division) and Damian Lawlor 087 299 9473 (North Division).
For more information on this please contact Tipperary U20 Football Manager: David Power 086 338 6350.
The fixture schedule is as follows; Sunday November 26th, U19 Inter – Divisional Competition in Dr. Morris Park, 1st round games with 11.00am throw-in – South v West and North v Mid; 2nd round Games with 12.15pm throw-in -South v Mid and North v West. Then on Sunday December 3rd, U19 Inter – Divisional Competition again in Dr. Morris Park, 3rd round games also with 11.00am throw-in – South v North and Mid v West. The Cup and Shield Finals throw-in at 12.15pm with the top 2 teams competing in the Cup Final and the bottom 2 teams contesting the shield final.
POST PRIMARY ACTION
Congratulations to Thurles CBS on winning the Dean Ryan Cup Under 16.5 A Hurling Cup following their 3-15 to 2-15 defeat of Midleton CBS in the final last week.
CAMOGIE
Congratulations to Burgess-Duharra on retaining their Munster Senior Camogie title last Sunday following their defeat of Inagh-Kilnamona (Clare) by 2-10 to 1-10, with the Burgess goals coming courtesy of Jenny Grace and Amy Kennedy.
COACHING COURSES
Award 1 Adult coaching courses in Tipperary will be aimed specifically towards the Adult club coaches i.e. coaching from minor through to senior grade in our clubs. The Hurling course will start this Wednesday night November 15th in Dr Morris Park and will run over 5 consecutive Wednesday nights including November 22nd, 29th and December 6th and13th from 7pm – 9.30pm nightly. The Award 1 Football course will start on Monday 22nd January 2018 and will run with the same format.
To book places on these courses please e-mail kevin.halley.gda.tipperary@gaa.ie Places are limited so booking is essential and the cost of the course will be €50 per coach strictly paid prior to the course starting.
GAA HEALTHY CLUB
Congratulations to three Tipperary GAA clubs, Nenagh Éire Óg, Fr. Sheehys and JK Brackens who can now proudly fly a flag above their grounds (endorsed by both Healthy Ireland and the Public Health Agency in NI), letting their members and communities know that they value health and wellbeing as much as leagues and championships. A special ceremony with governmental representation was held in Croke Park last week and saw 58 GAA clubs recognised as the first official 'Healthy Clubs' on the island of Ireland.
In January 2016, almost 100 clubs applied to participate in Phase 2 of the project (just 16 participated in Phase 1 between 2013-2015). Many cited the dearth of services in their communities that are tackling issues such as obesity, sedentary lifestyles, mental health and suicide. They wanted to be part of the solution.
Clubs engage with their members and community before identifying health themes upon which to focus on. Most common include healthy eating; physical activity for non-playing members; emotional wellbeing; engaging older members of the community; youth development; smoke free clubs; gambling, drug, and alcohol education; and inclusion and integration.
These three progressive GAA clubs are the first in Tipperary to receive national recognition. Their various health and wellbeing initiatives have had a tremendous impact on their clubs and wider communities.
Fr. Sheehy's GAA made history last year when they launched their complete smoke free policy, the first of its kind in Tipperary. They also provide a social outlet for individuals in the surrounding area through the Siul Eile Walking Group. The aim of the initiative is to reconnect communities and reduce isolation through walking programs. In 2016 they coordinated over 80 walks around Clogheen and the surrounding areas, attended by over 350 individuals who between them walked almost 16,000km, all in their own locality.
JK Brackens GAA Club in partnership with Our Lady's Secondary School Templemore coordinated 'Recipes for Success', a practical and educational nutritional workshop aimed at minor players. Nineteen teenagers from the club (three were on the County Minor Hurling team 2016) attended and learned how to make easy performance enhancing meals and snacks. The initiative was well received by participants and subsequent workshops were arranged as well as healthy eating talks for both parents and players.
Nine young club members from Nenagh Éire Óg GAA club were given the opportunity to develop their leadership skills through The Dermot Earley Youth Leadership Initiative, an accredited programme by the National University of Ireland, Galway, aimed at 15- 18 year olds. The programme enables young people to develop the skills, inspiration, vision, confidence, and action plans needed to be effective leaders, both on and off the pitch. The participants recently graduated with a Foundation Certificate in Youth Leadership and Community Action.
The GAA hope to extend the project to 150 clubs in Phase 3 (with expressions of interest to open in early 2018) before opening the project to all interested clubs in 2020. There are 1,600 clubs in Ireland and over 400 abroad. For more information, visit: www.gaa.ie/community Follow: @officialgaa or Like: www.facebook.com/officialgaa/ #gaahealth
DOME CONCERT           
"Reeling In the Showband Years" comes to Thurles for the first time.
The Ronan Collins Showband Show "Reeling In the Showband Years" has been a smash hit for the past 8 years, and event organisers are delighted to say it comes to Thurles for the very first time when Thurles Lions Club in association with the Tipperary Supporters Club proudly presents this terrific show in The Dome at Semple Stadium, on Friday, December 29th.
Tickets are now on sale at: Eason's (Thurles Shopping Centre); Hickeys Chemist (Liberty Square, Thurles); Ryan's Daughter Restaurant (Thurles); any Thurles Lions Club Member and online at: http://www.tippsupportersclub.com/reeling-in-the-showband-years/
It was a complete sell out last year right around the country and booking will be heavy, so get your tickets fast and what an ideal present a pair of tickets to this great show would make for your loved ones this Christmas.
The show organisers think this could be the very best line up yet, the cream of the Showband crop.
RTE's Ronan Collins is host and compere, where he will introduce the following guests –
Red Hurley – A living legend of showbiz for the past 40 years and one of the superstars of the showband era, Red has had a huge international career and has been feted from Las Vegas to the Deep South of USA. His great big soaring voice has captivated audiences since he hit the stage with the Nevada Showband and he is still a major force in Irish showbiz today. Hear his stunning voice on "How Great Thou Art" and "When" to up tempo songs like "Tennessee Special" and all of his other massive hit records.
Gina from the Champions was quite simply the biggest female vocalist of the showband era. She was loved, North, South, East and West and all her smash hit songs will all be included. The organisers are simply responding to the numerous requests for Gina's return.
Ronan Collins sings his renowned tributes to the great Joe Dolan, the Eurovision and much more.
Dave Lawlor was a huge surprise hit on last year's show but that came as no surprise to those who know of his ability, a man with a big voice and a master stage craftsman, all you could ask for in an entertainer. The organisers are delighted to have him back again this year. His smash hit record of a few years ago "Showband Nostalgia" is played on radio regularly.
Keith and Lorraine McDonald are a great brother and sister combination from one of the oldest musical families in Ireland. Their father Frankie was trumpet player with Joe Dolan for many years. Lorraine is one of the brightest talents to emerge from the late showband era and Keith is a star in his own right.
The Conquerors Showband, one of the greatest showbands of them all and still packing them in everywhere they go are famous for "Baby Blue" and many more hits.
Tommy and Jimmy Swarbrigg sing their Eurovision Songs from 1975 and 1977 and their other massive hits like "Looking thru the eyes of a Beautiful Girl", "If Ma Could See Me Now" and more.
The show's exciting finale is an all cast salute to the Showband Era.
All of the stars join in for a medley of songs from the unique Showband Years, bringing you back in time to this magical musical period.
It will send you home with great memories of a wonderful and never to be repeated period in Irish Popular music.
FRIENDS OF TIPPERARY FOOTBALL MEMBERSHIP
The Friends of Tipperary Football are now selling membership for 2018 and once again it is a very reasonable €20.
Membership enters each supporter into the following draws: Two All-Ireland Final Football tickets 2018 Two All-Ireland Final Hurling tickets 2018 Two Tickets for each Tipperary Senior Football Championship matches 2018 Two All-Ireland Club Final tickets 2018 Two Allianz National Football League tickets for each Tipperary League match in 2018
Plus, all members will receive an exclusive car sticker.
If you would like to join online you can do so at www.friendsoftipperaryfootball.com/join or contact any Friends of Tipperary Football committee member.
ANNUAL GAA MEMORABILIA FAIR IN THURLES
Lár na Páirce, the GAA Museum in Thurles, will hold a GAA Memorabilia Fair in Thurles Sarsfields Social Centre, (beside Semple Stadium) on Sunday week, November 26th from 12.00 noon to 4.00pm.
At this Memorabilia Fair, patrons will be given the chance to browse, purchase and search a large selection of Match Programmes, Club Histories, Hurling, Football, Camogie and Handball publications, not to mention a host of other somewhat rare GAA material, and all in the pleasant and spacious surroundings of  Thurles Sarsfields Clubhouse.
Dealers, collectors, sellers and swappers are cordially invited to attend this event, where it is hoped they will find unusual and rare material aplenty to interest everyone in attendance.
Sales positions, free of charge, can be booked in advance and anyone interested should contact the organisers before November 23th next.
Admission is €3, with accompanied children free.
For further information on this event, please contact Seamus J. King, Tel: 087 2246245 or Liam Ó Donnchú, Tel: 086 6036547 or email larnapaircemuseum@gmail.com This is one upcoming event certainly not to be missed by all lovers of GAA sports.
TIPPERARY HURLING CLUB, NEW YORK The County Tipperary Hurling Club New York will hold their 2017 Celebration Banquet on Saturday, December 2nd at Lake Isles Country Club, 660 White Plains Road, Eastchester, NY 10709.
Guest of Honour is Mike Kennedy (Toomevara) with Honouree Special Guest – John O'Brien (Toomevara), Honouree Guest – Sheila Ryan (Tipperary Rose) and Special Guest – Samantha Lambert (Ardfinnan & Tipperary Ladies Football Captain).
The Tipperary Man of the Year is Mickey Maher (Roscrea) and the Tipperary Hurler of the Year is Michael Sheedy (Portroe).
Proceedings get under way at 8:00 pm with a Cocktail Hour followed at 9:00 pm by Dinner and Dancing. Music will be provided by New York Showband.
LOYALTY CARD
Tipperary GAA has launched a loyalty CashBack Card which as a Tipperary supporter each individual that registers is doing their small bit in support of the county cause. Loyalty cards were sent out with club draw receipts to all members and as there is no charge in registering you can opt in immediately. If anyone who doesn't have a loyalty card and flyer please call to Lár na Páirce to pick up one. Register as per details on the CashBack flyer. To activate the card, holders must complete the registration and then please email, post or drop off your registration details to Lar na Páirce, Slievenamon Road, Thurles or secretary.tipperary@gaa.ie
TIPPERARY GAA SCENE
Information concerning all areas in the GAA will appear in this section in the future. If you wish to include any item of interest in future articles, please e-mailpro.tipperary@gaa.ie on or before 3.00pm on Monday. Visit the Tipperary GAA web site at http://tipperary.gaa.ie to keep up to date with all the latest news in Tipperary GAA circles.